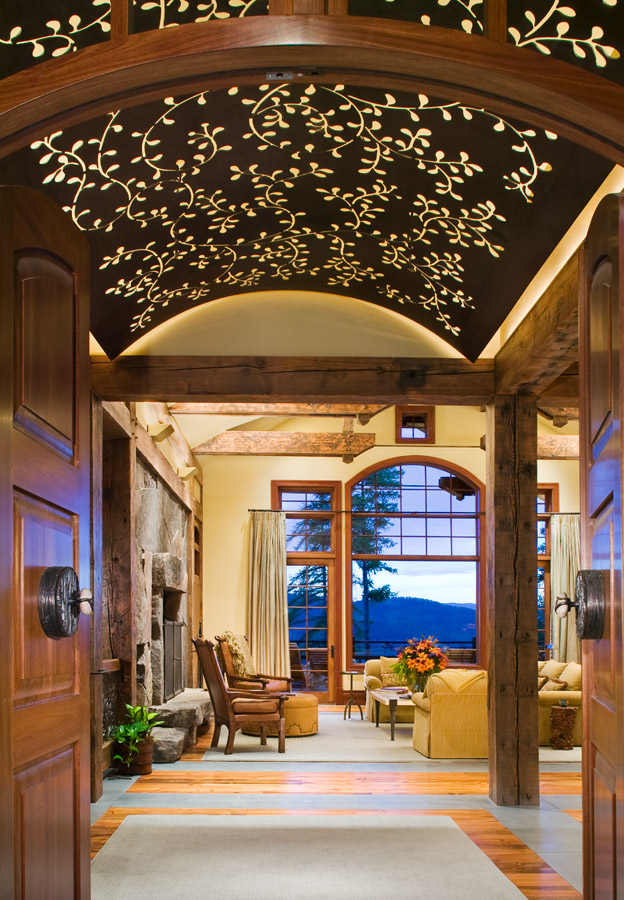 ARTISTRY HAVEN
Artistry Haven stretches out its heavy-timber frame on the shelf of a hillside, face turned towards a heart-stirring lake view.
Mrs. O was highly involved in the finishes and décor of her new home. Uniquely beautiful hardware, light fixtures, "stencil panel" handrails, and an ornamental metal ceiling were all made on commission by Seattle artists and friends exclusively for this house. The richly detailed wine cellar was a surprise for Mr. O; it was kept boarded off during construction, and only when it was complete did Mrs. O reveal this gift to her husband!
The home's style is Montana rustic with a shot of something different: aesthetic elements from the clients' home in Hawaii. Stones enshrining fossilized fish, framed in the powder room vanity wall, serve as a reminder that much of Montana used to be a prehistoric ocean, and that an island is just another kind of mountain peak.